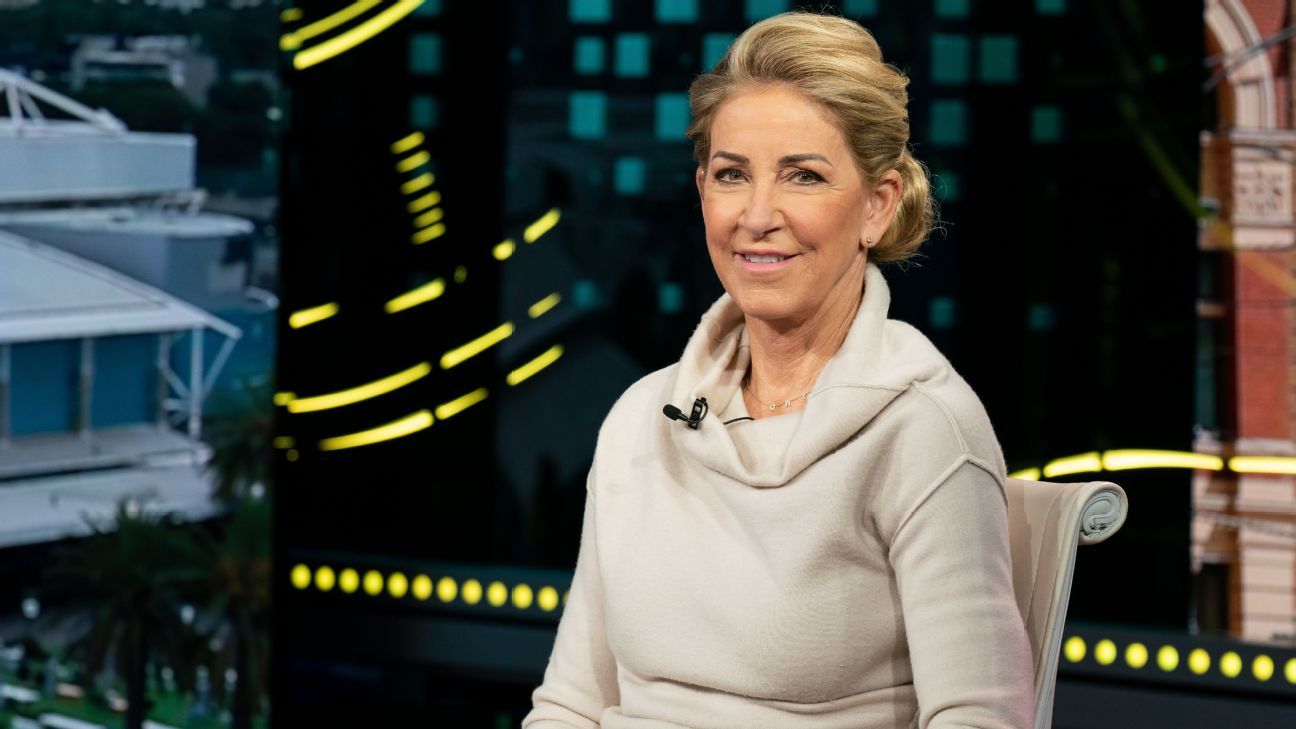 Chris Evert Opens Up About His Stage 1C Ovarian Cancer Diagnosis
It was short, simple and yet damn complicated.
I received a text message on December 7th.
"I can't speak at the moment but the pathology report came back today and said I had a malignant tumor in my fallopian tube; I'm going to have another surgery next week and then chemo… f— me…"
I read the text five times before understanding it.
My friend Chrissie has cancer. Illness had killed his sister Jeanne. My God.
"No! S—. I'm so sorry. Call when you can/willing to. I'm here for whatever you need."
At first, she needed more information. She needed privacy to process him. And she needed to recover physically from two operations. Next, she needed to tell her story. Through good times and bad, Chrissie has always owned her story. So here we are.
Chris Evert was diagnosed with stage 1C ovarian cancer. It is at an early stage, discovered following a preventive hysterectomy. The cancer was not detected elsewhere in his body. This week she started her first of six rounds of chemotherapy.
With time to take a step back, she says: "I lived a very enchanted life. Now I have challenges to overcome. But I am reassured to know that chemotherapy is used to prevent the cancer from coming back.
But rightly so, she's a little nervous.
"As someone who has always had control over my life, I have no idea how I will react to chemotherapy," says Chrissie. "I have to give in to something higher."
Dr. Joel Cardenas, from the Department of Gynecology/Oncology at Cleveland Clinic Florida near Fort Lauderdale, is Chrissie's surgeon.
"70 to 80 percent of ovarian cancers are diagnosed at stage 3 or 4," says Cardenas. "In about three months she would be at stage 3 or 4. If left unchecked, she's reaching the abdomen."
For most women, including Chrissie, there are no noticeable symptoms. Early-stage ovarian cancer is virtually impossible to detect.
She reminded me that her annual checkups, including testing for the amount of cancer antigen 125 protein in her blood, her ultrasounds, and her MRI with contrast were all negative.
"I'm so lucky," she says with the conviction of someone who has witnessed the unlucky.
Jeanne Evert Dubin, Chrissie's younger sister, also a former professional tennis player, died in February 2020. She was 62. The two sisters were crossing the airport on their way to the WTA Finals in Singapore in October 2017 when Chrissie realized Jeanne was out of breath and couldn't keep up.
"True to Jeanne's personality and like many other women, Jeanne was busy taking care of everyone," says Chrissie.
Jeanne promised to see the doctor as soon as they returned. She was diagnosed with ovarian cancer. It was at an advanced stage and had spread. Chrissie describes seeing Jeanne in treatment as "devastating and traumatic". She says memories of Jeanne's strength will motivate her own.
"When I go for chemo, she's my inspiration," Chrissie says. "I'll be thinking of her. And she'll help me out."
Chrissie gave Jeanne's eulogy. Chrissie was stoic, collected and even funny. Most importantly, in addressing Jeanne's cancer, Chrissie was candid. It was a powerful delivery and message.
She wrote in the eulogy: "The last 2 1/2 years of Jeanne's life were, for lack of a better word, brutal. fought and fought to the bitter end. For those of us who were on this journey with her, it was heartbreaking to watch.
When Jeanne was suffering from cancer, she tested negative for harmful variants of the BRCA1 gene, which can be markers of susceptibility to certain cancers. Family members were not encouraged to pursue genetic testing at this time. People with pathogenic (harmful/dangerous/worrying) variants of this gene have an increased risk of developing certain cancers, including breast and ovarian cancers.
In the years since Jeanne's diagnosis, genetic testing has evolved. After further research, the BRCA1 variant that Jeanne had was found to be pathogenic. The last week of October, four years after Jeanne's diagnosis, the Evert family received a call informing them of the change in the interpretation of Jeanne's genetic report.
This phone call was nothing short of a miracle.
Chrissie immediately sent her blood for genetic testing. She revealed that she too had a pathogenic variant of the BRCA1 gene. Following discussions with her doctor, Chrissie underwent a hysterectomy in early December.
"We thought we were proactive," Chrissie said. "Since Jeanne had ovarian cancer, that was the priority. A decision on the breast is imminent."
Then things took an unexpected turn. "Dr. Cardenas called and said we had to come back in the next 10 days for lymph nodes and other tissue samples."
Chrissie was amazed. Postoperative pathology revealed malignant cells and a tumor originating from the left fallopian tube. As she attended various appointments, too many medical terms became familiar to her.
"I heard all the terms for two years with Jeanne," she said. "It was like deja vu going back in time. Back in space which was awful."
Doctors operated again on December 13.
And then the wait.
"The longest three days of my life. Stage 1 or stage 3," she said. "If I'm cancer free, I'm a different stat. I was in a daze. I just couldn't believe it. I was working out, doing CrossFit, playing tennis. I felt nothing of different."
On Dec. 15, Chrissie texted, "Lymph NEGATIVE!!!!!!!"
" Yes ! Yell ! I answered.
December 15 was a good day. Step 1. Dr. Cardenas called Chrissie and quickly got to the point. All pathologies this time came back negative. The cancer had been removed during the hysterectomy. It had not spread. After chemotherapy, there is a greater than 90% chance that her cancer will never come back.
"I can't remember being this happy in years!" said Chrissie.
Since making her debut as a 16-year-old at the 1971 US Open, Chrissie has inspired millions of women around the world to pursue their sporting dreams. She is proud to have exemplified a mixture of athleticism and femininity. Champion, businesswoman, philanthropist and above all a mother, Chrissie has done it all. She continues to thrive in competition, but she hates confrontation as much now as she did when she played. She would rather get to work solving a problem or injustice than discussing it.
Chris Evert Charities has raised nearly $30 million to fight drug addiction in South Florida. She also works tirelessly as President of the USTA Foundation, which benefits underserved youth nationwide. Chrissie understands her profile and the responsibility that comes with her platform. It's one of the traits that I admire so much in her generation of WTA players.
Today, 50 years after its debut on the world stage, it puts this personal information at the forefront for the good of all women and men. She passionately pleads to share her story.
"Chris, more people need to hear stories like these!" she tells me. "It's the harsh reality! We need to have these conversations. Ovarian cancer is a very deadly disease. All information is power."
His advice is imperative: "Be your own advocate. Know your family history. Have full body awareness, follow your instincts and be aware of the changes. ."
The perception of gynecological cancers (ovary, cervix, fallopian tube, uterus) as a disease or cancer of women must also change. Mutations in the BRCA1 gene can lead to an increased risk of cancer for people of all gender identities.
Chrissie calls the days spent waiting for her results "humiliating." She realized she was joining a sorority no one wants to be a part of. She often thought of Jeanne, as well as the "many other women, sisters, friends and families who are or have been faced with this challenge".
Dr. Cardenas says the keys to an early diagnosis are keeping up to date with exams and office visits, knowing your family history, and having a good relationship with your gynecologist. Women should also know the risk factors – endometriosis, history of breast cancer and infertility are some of them. The average age of diagnosis of ovarian cancer is 63 years old.
"Ovarian cancer is rare," Dr. Cardenas said. "However, if a patient has a family history, we encourage genetic testing and counselling."
The genetic information left behind by her sister likely saved Chrissie's life.
For more information, Chrissie asks you to visit the American Cancer Society at www.cancer.org and the Cleveland Clinic at ClevelandClinic.org.
ESPN and the V Foundation are committed to the fight against cancer. If you can, please support cancer research by visiting V.org/donate.