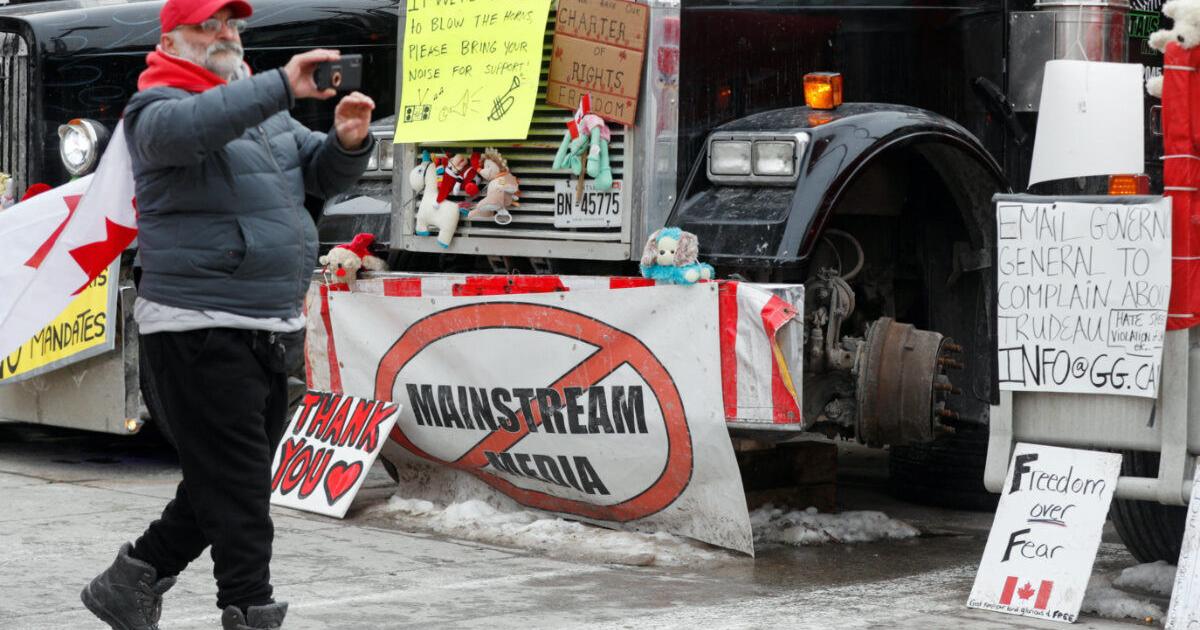 Hard truths called fake news: blaming the media is a tired but dangerous tactic to avoid reality | Opinion
BY IAN PATTISON
Fake news.
It's trending online. The caustic keyboardists are quick to accuse the so-called mainstream media of grand collusion, and their reporters of being willful foot soldiers in telling lies to the readers, viewers and listeners they are responsible for informing. It's so piffle.
When the news of the day is collected, researched, written and edited, it is not always what some people want it to be. And so the media is accused of not telling the whole story, of having a built-in bias, and ultimately of simply lying to the public.
To what end, I'm not sure, but with 55 years of journalism in Thunder Bay behind me, I've had enough.
"The mainstream media are the lackeys of the Liberal government" is a favorite lie – paid, some say, to tell the government side of things and ignore the real story that is hidden in a huge conspiracy.
If so, there must be some sort of meeting between the Prime Minister's Office and the editors to plan the day's stories. No publisher I've worked for has been involved in such a subterfuge. I've never been called into the editor's office to be told that this is how the prime minister, prime minister, mayor or some other official wants the story told, so be it .
Reporters and editors have story meetings, but they must not shape coverage in a way that favors an entity that commissioned it. These meetings focus on how to cover an emerging story that gives readers, viewers, and listeners a bigger picture.
When that's not possible, it's usually because someone who has a side of the story to tell isn't willing or ready to tell it. That's why you often read or hear a line in reports that says, "We asked for such-and-such a review, but they declined/were not available/didn't call back before the deadline."
Sometimes journalists are downright mean. On January 26, when local reporters attempted to speak to truckers and "truckers" in the Ottawa-bound convoy at Kakabeka Falls, they were threatened with trespassing charges (on property that was not the them), called "dirty communists" and advised to "Go find a new country."
"I know these journalists," I wrote at the time. "They are good people. They work hard. They live here.
Since then, things have only gotten worse. National reporters who do their best to cover the unprecedented occupation of our capital are called far worse than the Communists. A number of them described security issues and acts of intimidation; some were attacked.
On other occasions, things are just plain hilarious. I got a kick from the protester carrying a large "Fake News" sign behind CBC reporter Ashley Burke describing how protesters cleared the way for an ambulance to drive through a crowd. Pay, I say be careful, boy.
WHEN CONVOY ORGANIZERS held their first press conference on January 31, mainstream media was banned. It's hard enough to tell the whole story when the storytellers tell you to get lost.
One organizer, Benjamin Dichter (Google him), said the CBC, Toronto Star and others were banned because they "continued to run stories that our GoFundMe was frozen or suspended for nefarious reasons. You know the "right-wing truckers", the "dangerous people", and it was hysterical".
Here's what GoFundMe posted on February 4, which was widely shared on the usual media sites:
"GoFundMe supports peaceful protest and we believe that was the intent of the Freedom Convoy 2022 fundraiser when it was created.
"We now have evidence from law enforcement (not media with an agenda) that the previously peaceful protest has turned into an occupation, with police reports of violence and other illegal activity."
The convoy fundraising page has been removed from the GoFundMe website and funds have been frozen. Eventually, $1 million from the $10 million account was released; the rest was refunded.
For reporting this, word for word, the news media was portrayed as an enemy of the convoy and, by extension, of the "freedom" of Canadians. You can't make this stuff up – as misinformed critics of media reports often do.
On Tuesday, a CBC reporter asked a trucker to comment on a statement from the Children's Aid Society of Ottawa that "there have been ongoing reports to CASO of child welfare issues. in the middle of the demonstration in Ottawa.
What followed was bizarre.
The reporter asked, "Did you hear the statement I just read?"
"You say my teenagers are threatened because they are in Ottawa? asked the truck driver. "Is that what you're telling me?" Answer my question."
"You heard the statement…" resumed the journalist.
"We all answered questions," the trucker cut in. "You answer mine. Are my children in danger?
"I don't work for the Children's Aid Society," the reporter said.
"Are my children in danger of being in Ottawa? asked the truck driver again.
And it continued, back and forth, until this:
"You don't give like— about nobody." All you care about is your paycheck. You sold your soul a long time ago… You work for the devil. It's who you work for. He's your boss.
Apparently, a session with Satan preceded this exchange.
POLITICIANS LOVE to get in on the act too. Tim Powers, the conservative chairman of Summa Strategies, told Global News that criticizing the media is "part of normal strategic practice" for conservative politicians, especially when they feel in trouble.
"It's effective as a restraining action, so what you're looking to do when you go after the mainstream media is to distract from your own challenges," Powers said, as the Conservatives in Ottawa tried to divert attention from a damning examination. the party's failure to win the last election and the ensuing purge of Leader Erin O'Toole.
You don't have to look far to find equally damaging criticisms of Liberal Prime Minister Justin Trudeau's performance on a number of initiatives and his soapy bromides that serve as answers to journalists and opposition politicians during question period.
In fact, every day you can find critical mainstream media reporting and analysis on politicians of all persuasions regarding their handling of the pandemic and the "trucker" insurgencies that are now hampering daily life and the national economy. . But the wacky critics of the news media and the crass "truckers" in Ottawa, Windsor and elsewhere will never admit it. They are too busy destroying our lives.
Ian Pattison has retired as the Chronicle-Journal's editorial page editor, but still shares his thoughts on the news.