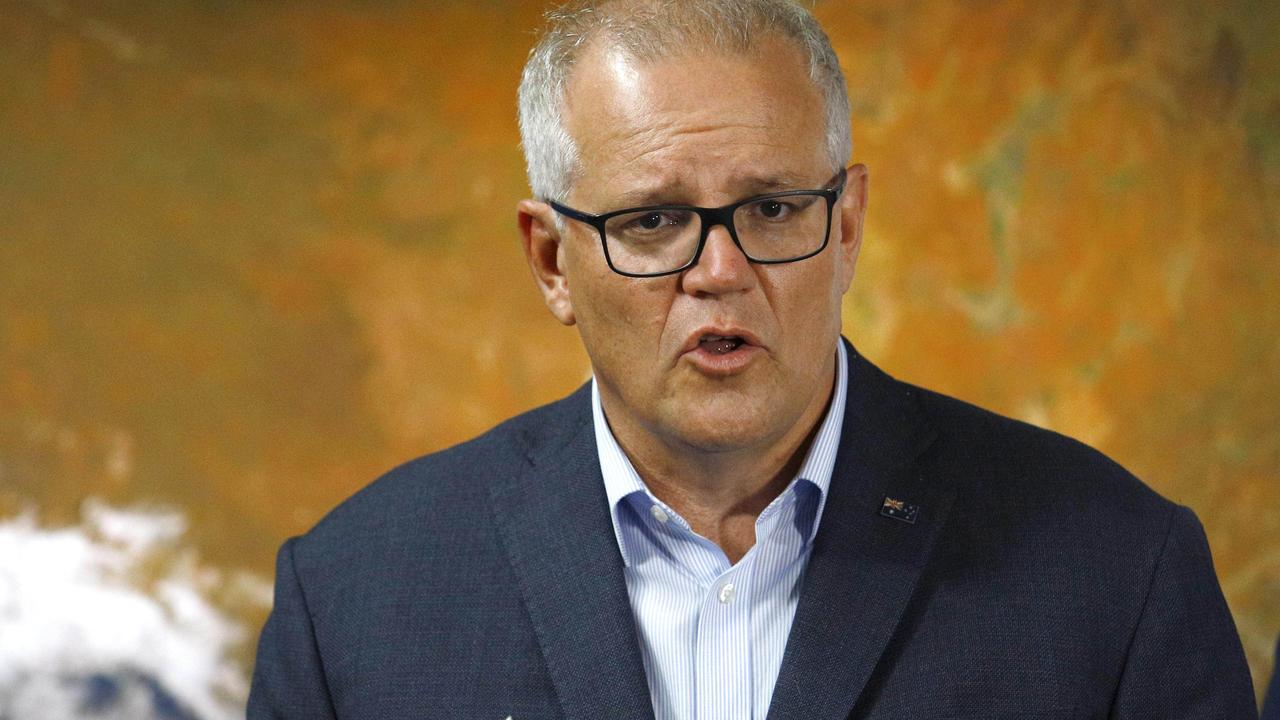 Scott Morrison accused of banning media from visiting Lismore
Scott Morrison accused of shutting down the media on a visit to a flooded farm, an SES base and a person who had lost their home.
Scott Morrison has been accused of dodging the media during a flood tour in northern New South Wales to avoid a repeat of awkward exchanges filmed during the Black Summer bushfires.
The Prime Minister landed in Lismore on Wednesday morning ahead of several media events to announce disaster funding and declare the NSW floods a national emergency.
Seven News political editor Mark Riley revealed Mr Morrison had made several visits to the flood-ravaged town ahead of the official events, but the media were not invited.
"The Prime Minister visited a farm near Lismore and an SES base of operations this morning and will soon visit flood-affected homes. Media were not allowed to film the visits," Riley said.
"The media were only made aware of Prime Minister Scott Morrison's visits to the flood-affected farm and SES base after they occurred. The official PM photographer was there.
However, the Prime Minister's Office refuted the claim, saying Mr Morrison wanted to 'pay tribute and say thank you privately without' the presence of the media.
Deputy Prime Minister Barnaby Joyce warned Mr Morrison he could face backlash at Lismore.
"I would be incredibly surprised if people got a happy reception because they're not happy. They're not in a happy place. And they want to be heard," Mr Joyce told Sky News.
Angry locals threatened to greet Mr Morrison with an icy reception on his arrival, with 'shirt ahead' warnings.
Residents of Lismore threatened to 'queue up so he can't shake our hands'.
It could repeat what Mr Morrison experienced in the New South Wales town of Cobargo during the 2019/2020 bushfires.
Many residents are desperate for the lack of government aid announced since the floods began.
A joint $434.7 million federal-state program was announced last week to provide grants of up to $75,000 to primary producers and $50,000 to small businesses.
Mr Morrison said the funding was the first phase of financial support for flood victims.
Federal disaster relief payments of $1,000 and 13-week income replacement are also available.
The Prime Minister has been isolated after contracting Covid-19.
But Labor disaster spokesman Murray Watt said residents lamented the lack of federal government presence.
Senator Watt has been in Lismore for three days and said he had not seen 'a single minister or government official' on the ground.
"People are grateful for the help of the arm, but it's not enough," Sen. Watt told ABC radio on Wednesday.
"People keep pretending you barely see the government and they're on their own.
"A lot of people think it's a repeat of the bushfires when people were abandoned back then, the government came late and they didn't mobilize their resources.
"People want to see it fall apart."
Deputy Prime Minister Barnaby Joyce said he expected locals to be upset when Mr Morrison arrived.
"You're not going to meet happy people," Mr Joyce told Sky News.
"You will meet people whose lives have been turned upside down, who are afraid for their future, who are under immense financial pressure.
"I expect people to be incredibly upset."
"I would be incredibly surprised if people got a happy reception because they're not happy. They're not in a happy place. And they want to be heard"
Senator Watt went on to say that Mr Morrison should use the powers he gave himself after the bushfires and declare an official national emergency.
"In his own words, (declaring a national emergency) would help him better mobilize Commonwealth resources to help people," Senator Watt said.
"He said it would overcome bureaucracy and interstate issues and give him a lot more unilateral power … to intervene if a state is overwhelmed.
"He didn't use the powers. People think he's the guy who disappears when you need him.
Mr Morrison has also been called on to ensure 'all available hands' are on the ground in Lismore as the massive cleanup begins.
But Nationals deputy leader David Littleproud said states need to take more responsibility.
"There is a long-established protocol that states lead the process. They have the expertise on the ground through emergency services personnel," he told ABC News.
"We allow states to determine when ADF should be injected into a disaster. This is to ensure that when they arrive, they undertake the tasks that simplify the process and help speed up the cleanup, but this is done at the request of state governments.
Defense Minister Peter Dutton was criticized on Tuesday for the lack of ADF personnel in the disaster area.
Some residents carried out rescue missions and delivered essential supplies.
New South Wales Deputy Premier Paul Toole said there were now 1,300 troops on the ground, but his government had asked for more.
"We got the request for all of those 2,000, and then we heard there were 5,000 available," Mr Toole told the Nine Network.
"We asked for every pair of hands that might be here on the court. I want to emphasize that the ADF are doing everything they can, they showed up.
"But we are asking if there are ADFs available there for the Commonwealth to send them to that area as they need them right now… We will take any available ADF members to those communities.
"The Commonwealth said they were available, we want them to come now. 1300 is fantastic, but we'll take everyone available.
Mr. Toole said he request additional immediate financial support from the federal government.
Read related topics:
Scott Morrison